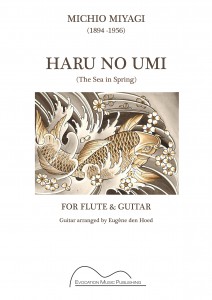 Review from Classical Guitar Magazine USA, by Chris Dummigan
Michio Miyagi (guitar arr. by Eugene Den Hoed)
Evocation Music Publishing, score plus flute part (15 and 8 pp.)
Traditional Japanese style offers guitarists something different
Haru no Umi, originally a piece for koto (a traditional Japanese stringed instrument) and shakuhachi (a Japanese flute), was composed in 1929 by Michio Miyagi. It is Miyagi's best-known piece and one of the most famous for that instrumental combination. Here, Eugene den Hoed has arranged the guitar part (so I assume the flute part is roughly the same as the original shakuhachi part). On YouTube there is an enlightening, nearly eight-minute performance on the original instruments from 2010 that shows how closely den Hoed has stuck to that arrangement in his guitar part, and also the instances he has had to change some notes.
The mention of rubato in the speed marking of "Lento e poco rubato" is also interesting, because that recorded performance reveals how much freedom the performers take with the speed when playing this piece. The work uses traditional scales throughout, and the sound is captivating and very atmospheric. Both parts share the limelight at different times and the guitar is often, but not always, playing campanella-style arpeggio patterns of one sort or another. As a result the part is not too difficult to master, although the flute player has many arabesques to play, and as such has to be a considerable player.
If the traditional Japanese sound is to your liking, this wonderful piece of writing could make a welcome change from your normal repertoire. —CD