Review from Classical Guitar Magazine USA, by Chris Dummigan
Eugene Den Hoed
Evocation Music Publishing, 21, 31, 11 and 21 pp.
4 superb works in diverse styles
This Dutch-born composer is writing some of the most interesting and satisfying guitar music around, and here are four more of his fine volumes.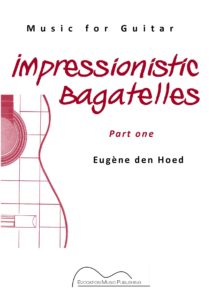 There are nine Bagatelles, quite varied and imaginative, with many clever details that sound new and musically convincing, while never leading you where you expect; they constantly surprise. No. I a starts innocently enough, yet soon harmonically catches the player out with its unexpected juxtaposition of notes. Time signatures change frequently, but the whole book c is aimed at intermediate players.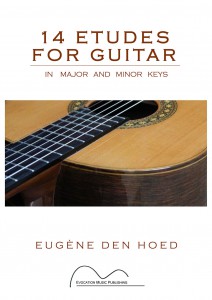 The 14 Etudes are in C, D, E, F, G, A, B s major, and B minor, and are tonal, but with a elements of modality, and each piece has b a technical challenge that makes it a useful workout, as well as being an involving piece of music.
Variations on a theme of John Dowland is based on the song "If My Complaints Could Passions Move" and consists of the theme and eight variations that never stray too far away from the original, but with each one a different speed and feel.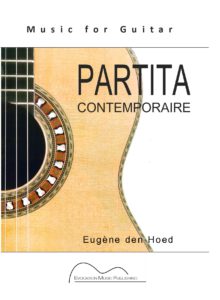 The final piece, the Partita Contemporaire, is in eleven  movements, and though Baroque dances are its starting point and it always retains an a emotional link with that era, harmonically it is clearly contemporary.
Each of these books is very different from the others, and together show how varied and cleverly written Den Hoed's pieces are. —CD