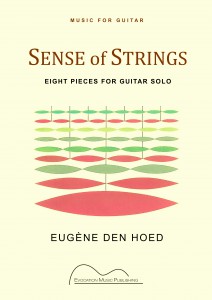 Review from Classical Guitar Magazine USA, by Chris Dummigan
Eugene den Hoed
Evocation Music Publishing, 33 pp. and 19 pp.
Imaginative modern pieces have much momentum
Sense of Strings is den Hoed in his most imaginative style of modern-friendly writing. Graded Level 3 to 5, they offer many contrasts. The book begins with Scherzando, a leaping allegretto in E minor that is mostly in 6/8, with the occasional 3/8 and 9/8. The main theme has an upwardly surging forward motion that has considerable momentum and is very effective. The oddly titled Mystic Bags is in a mixture of 5/8, 3/8, and 6/8, and flits backwards and 1 forwards from D minor to D major, but has i a lovely lilt to it. Burlesque is an animato E major work that sounds like its title suggests, while the final Latin Grooves is full of cheeky syncopated rhythms. The other four are as good, too.
Sonaras is a set of three pieces with a much more pungent harmony to them. All the usual den Hoed trademarks are there – the flowing arpeggios in unexpected combinations, the way notes fall under the fingers well, and the constant surprises in the notes and harmonies. The three movements are all fast; indeed they get faster as they progress. In the first one, the meter is always changing, giving a sense of dislocation and unease when it shifts. The second is marked by a substantial forward momentum, while the last, in 5/4, has a repeated-note idea interwoven with offbeat rests and otherwise flies off the page to a triumphant conclusion.
Both works are up to den Hoed's high standards.
—CD
ClassicalGuitarMagazine.com